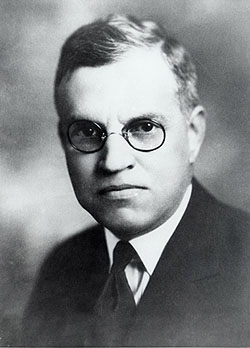 Robert C. Reamer
(1873-1938) was an American architect, most noted for the Old Faithful Inn in Yellowstone National Park. Reamer was born in and spent his early life in Oberlin, Ohio. He left home at the age of thirteen and went to work in an architect's office in Detroit as a draftsman. By the age of twenty-one, Reamer had moved to San Diego and had opened the architectural office of Zimmer & Reamer in partnership with Samuel B. Zimmer. The firm produced a wide variety of projects, but the only surviving example of Zimmer & Reamer's work is the George H. Hill Block in the Gaslamp District. The partnership dissolved in 1898, but Reamer continued to work on his own, including work at the Hotel del Coronado. During this period he became acquainted with the president of the Yellowstone Park Association, Harry W. Child.
In 1910 Reamer presented designs for a new hotel to be located at Canyon Village, adjacent to the Falls of the Yellowstone and the Grand Canyon of the Yellowstone, to be known as the Canyon Hotel. This hotel incorporated portions of a previous hotel, built in 1891, and was 750 feet long with 400 rooms and 100 baths. Occupying a prominent site on a hillside, it was built in the winter of 1910-1911. The design bore a close resemblance to Frank Lloyd Wright's Prairie style work, with a strong horizontal emphasis and a commanding roof line.
By 1918, Reamer had remarried and relocated to Seattle. In 1935, Reamer began to experience health problems that led to the amputation of a leg in 1937. He died in Seattle of a heart attack on January 7, 1938.
(Wikipedia)
The centerpiece of the Canyon Hotel was its lounge which had elements of Prairie Styled architecture.
Close to midnight on August 17, 1959 a 7.5 magnatude earthquake struck Yellowstone National Park centered at Hebgen Lake. Over the next few hours four aftershocks shook the Yellowstone area, with magnitudes ranging from 5.8 to 6.5. Damage to the Old Faithful Lodge was minimal. But the Canyon Hotel did not fair as well. It suffered extensive damage and the conclusion was reached that repairs would be to costly. The Canyon Hotel was ordered razed and demolition began. But late on August 8,1960 before it could be completely demolished it caught fire and burned.
Extant of Robert Reamer's other work:
- Hall's Mercantile, Gardiner, Montana, now the headquarters of the Yellowstone Association, 1903.
- Old Faithful Inn, Yellowstone National Park, 1904, additions 1913-1914.
- Lake Yellowstone Hotel, Yellowstone National Park, expansion, 1904, additions 1923, 1928, 1936.
- Masonic Home, Helena, Montana, 1906.
- H.W. Child House (Executive House), Mammoth Hot Springs, Yellowstone National Park, 1908.
- Mammoth Hot Springs Hotel addition, Yellowstone National Park, 1913.
- Union Station, Clinton, Massachusetts, 1914.
- Lake Quinault Lodge, Quinault, Washington, 1926.
- Skinner Building, Fifth Avenue Theater, Seattle, Washington, 1926.
- Mount Baker Theater, Bellingham, Washington, 1927.
- 1411 Fourth Avenue, Seattle, Washington, 1928.
- Edmond Meany Hotel, Seattle, Washington, 1931.
- Fox Theater, Spokane, Washington, 1931.
- Fox Theater (later Alberta Bair Theater), Billings, Montana, 1931.
Demolished work:
- Northern Pacific Railroad Depot, Gardiner, Montana, 1903, demolished 1954.
- Transportation Building, Mammoth Hot Springs, Yellowstone National Park, 1903, burned 1925.
- Canyon Hotel, Yellowstone National Park, 1910, addition 1930, demolished 1962.
- Maine Central Railroad Depot, Augusta, Maine, 1913, demolished 1961.
Unbuilt designs:
- Mount Washington Summit Hotel, Mount Washington, New Hampshire, designed 1912.