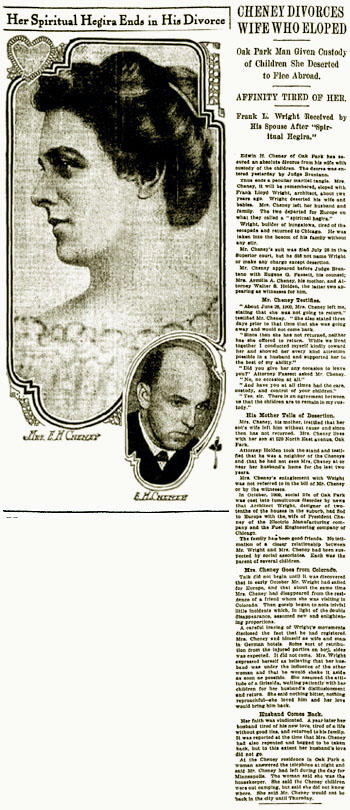 Chicago Daily Tribune - August 6, 1911
Originally published in the Chicago Daily Tribune, August 6, 1911, page 3.

Her Spiritual Hegira Ends in His divorce.
-------------------------
Cheney Divorces Wife Who Eloped.
-------------------------
Oak Park Man Given Custody of Children She Deserted to Flee Abroad.
-------------------------
Affinity Tired of Her.
-------------------------
Frank L. Wright Received by Spouse After "Spiritual Hegira."

Edwin H. Cheney of Oak park has secured an absolute divorce from his wife with custody of the children. The decree was entered yesterday by Judge Brentano.
Thus ends a peculiar marital tangle. Mrs. Cheney, it will be remembered, eloped with Frank Lloyd Wright, architect, about two years ago. Wright deserted his wife and babies. Mrs. Cheney left her husband and family. The two departed for Europe on what they called a "Spiritual hegira."
Wright, builder of bungalows, tired of the escapade and returned to Chicago. He was taken into the bosom of his family without any stir.
Mr. Cheney's suit was filed July 28 in the Superior court, but he did not name Wright or make any charge except desertion.
Mr. Cheney appeared before Judge Brentano with Eugene G. Fassett, his counsel; Mrs. Armitla A. Cheney, his mother, and Attorney Walter S. Holden, the latter two appearing as witness for him.

Mr. Cheney Testifies.
"About June 28, 1909, Mrs. Cheney left me, stating that she was not going to return." testified Mr. Cheney. "She also stated three days prior to that time that she was going away and would not come back.
"Since then she has not returned, neither has she offered to return. While we lived together I conducted myself kindly toward her and showed her every kind attention possible in a husband and supported her to the best of my ability."
"Did you give her any occasion to leave you?" Attorney Fassett asked Mr. Cheney.
"No, no occasion at all."
"And have you at all times had the care, custody, and control of your children."
"Yes, sir. There is an agreement between us that the children are to remain in my custody."

His Mother Tells of Desertion.
Mrs. Cheney, his mother, testified that her son's wife left him without cause and since then has not returned. Mrs. Cheney lives with her son at 520 North East avenue, Oak Park.
Attorney Holden took the stand and testified that he was a neighbor of the Cheneys and that he had not seen Mrs. Cheney at or near her husband's home for the last two years.
Mrs. Cheney's entanglement with Wright was not referred to in the bill of Mr. Cheney or by the witnesses.
In October, 1909, social life of Oak Park was cast into tumultuous disorder by news that Architect Wright, designer of two-tenths of the houses in the suburb, had fled to Europe with the wife of President Cheney of the Electric Manufacturing company and the Fuel Engineering company of Chicago.
The family has been good friends. No intimation of a closer relationship between Mr. Wright and Mrs. Cheney had been suspected by social associates. Each was the parent of several Children.

Mrs. Cheney Goes from Colorado.
Talk did not begin until it was discovered that in early October Mr. Wright had sailed for Europe, and that about the same time Mrs. Cheney had disappeared from the residence of a friend whom she was visiting in Colorado. Then gossip began to note trivial little incidents which, in light of the double disappearances, assumed new and enlightening proportions.
A careful tracing of Wright's movements disclosed the fact that he had registered Mrs. Cheney and himself as wife and man in German hotels. Some sort of retribution from the injured parties on both sides was expected. It did not come. Mrs. Wright expressed herself as believing that her husband was under the influence of the other woman and that he would shake it aside as soon as possible. She assumed the attitude of a Griselda, waiting patiently with her children for her husbands disillusionment and return. She said nothing bitter, nothing reproachful - she loved him and her love would bring him back.

Husband Comes Back.
Her faith was vindicated. A year later her husband tired of his new love, tired of a life without good ties, and begged to be taken back, but to this extent her husband's love did not go.
At the Cheney residence in Oak Park a woman answered the telephone at night and said Mr. Cheney had left during the day for Minneapolis. The woman said she was the housekeeper. She said the Cheney children would not be back in the city until Thursday.

Courtesy of the Chicago Daily Tribune, Chicago Tribune.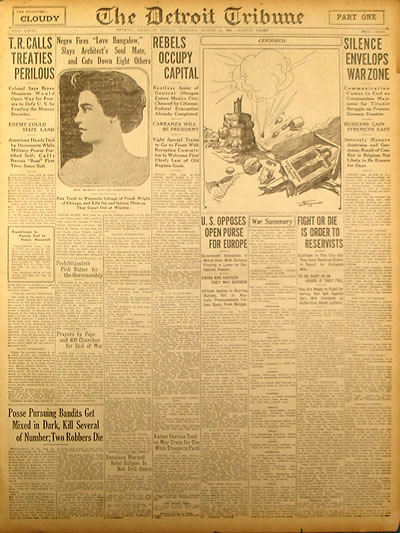 The Detroit Tribune - August 16, 1914 (Published daily)
The Detroit Tribune
Originally published in The Detroit Tribune, August 16, 1914, Page 1-2
Negro Fires "Love Bungalow," Slays Architect's Soul Mate, and Cuts Down Eight Others.
Caption: Mrs. Mamah Bouton Borthwick.
Puts Torch to Wisconsin Cottage of Frank Lloyd Wright of Chicago, and Kills Six and Injures Three as They Crawl Out of Window.
SPRING GREEN, Wis., Aug. 15 - A mad Negro, armed with a hand ax, today ended the romance of Mamah Bouton Borthwick, formerly Mrs. Edwin H. Cheney, of Oak Park. Ill., and Frank Lloyd Wright, wealthy Chicago Architect, with whom she lived with as a wife since 1911.
Setting fire to the elaborate bungalow built by Wright for Mrs. Borthwick here after his estrangement from his wife, the Negro stood outside and attempted to brain Mrs. Borthwick and eight other occupants of the building, members of the family and employes (sp), as they fled from the flames. He succeeded in ending her life and the lives of five others, probably fatally injuring a seventh and seriously wounding the remainder.
SLAYER SURRENDERS
Mrs. Borthwick is said to have reprimanded the man, Julian Carlton, a chef in her kitchen. He brooded over this. It is thought, and became insane.
Carlton disappeared after the killing, but after a search of several hours had been made for him, reappeared. He was hurried into an automobile and rushed to the Iowa county jail, 18 miles away.
The dead are:
MRS. MAMAH BOUTON BORTHWICK, cut about the head and neck, her clothing burned.
MARTHA BORTHWICK CHENEY, her 10-year-old daughter, cut about head.
JOHN BORTHWICK CHENEY, her 13-year-old son, head chopped open, badly burned.
EMIL BURDELL, 30, Draughtsman, cut about the head and badly burned.
TOM BRUNKER, laborer, cut and burned.
ERNEST WESTON, 18, burned about head.
The fatally injured:
David Lindblum, a gardener, cut about the head.
The seriously injured:
William Weston, carpenter, cut about the neck and burned.
Herbert Fritz, cut and burned, arm broken.
HID IN BOILER.
Sheriff Bauer organized a search for Carlton as soon as he learned of the murder. Posses of farmer joined with the sheriff's deputies and bloodhound were obtained. It was believed the Negro had escaped down the Wisconsin river in a canoe.
While neighbors guarded the grounds and the men with the hounds were searching the countryside, Carlton crawled out of a boiler. He was nearly suffocated from the heat and appeared thoroughly exhausted. He said he had taken poison, but would give no reason for the crime.
SOAKED RUG FOR TORCH.
Carlton, with his wife, had been in Wright's employ four months, coming here from Chicago. Mrs. Carlton was found dazed after the tragedy, walking along the highway and was taken in custody. She denied any participation in the affair.
The Negro displayed fiendish ingenuity in arranging his victims for the slaughter. All were in the dining room when he lighted a rug soaked in gasoline in front of the door, according to William Weston, the least seriously injured. In a moment, the room was in flames. But one means of egress, a window, was left.
Mrs. Borthwick was the first to put her head through the window. The Negro, waiting outside, struck her down with one blow, crushing her skill, then dragged her body out and waited for the next. Little John Cheney followed. His head was split open. Then Burdell fell.
PURSUES FLEEING VICTIM
"As each one put his head out," said Weston, "the Negro struck, killing or stunning his victim. I was the last. The ax struck me in the neck and knocked me down, but left me conscious. I got up and ran, the Negro after me. Then I fell, and he hit me again. I guess he thought he had me, because he ran back to the window and I got up and ran. When I looked back he had disappeared."
By this time, Weston said, the bungalow was in flames. Neighbors appeared and later officials of the town. A search was made for Carlton and his wife who were missing. Mrs. Carlton's apprehension soon followed but no trace of her husband was found.
The fire was confined to the bungalow and when it had been controlled, neighbors, many of whom had been bitter against Mrs. Borthwick, joined the posse in search of the murderer.
Word reached here tonight that Wright had left Chicago for Spring Green. He had not been here since Tuesday, when he left for Chicago. Assisted by Burdell, he did much of his architectural work here.
----------------------------------
The Detroit Tribune
Originally published in The Detroit Tribune, August 16, 1914, Page 2
Chicago, Aug. 15. - "Frank Lloyd Wright was in his office when he received a long distance telephone message informing him of the tragedy. He was prostrated and declined to discuss it. Later he left for Spring green."
Original cover price 5 cents. 17.5 x 23.25.
2) Pg 2
0124.08.0607