Owners & Managers of the Hotel Geneva

Richards and Williams. Designed in 1911, the Lake Geneva Hotel opened in August 1, 1912. It was commissioned by Arthur L. Richards as a luxury hotel. Arthur L. Richards was a real estate developer in Milwaukee, WI. John J. Williams was a businessman from Chicago. Richards and Williams formed the Artistic Building Company and developed the Lake Geneva Hotel. Within a few years, it changed hands due to financial difficulties. One problem may have been that the late opening. It was originally planned as a "Summer Hotel". Even today many hotels rely on their high season to support the rest of the year. The main Lodge in Glacier Park, the Glacier Park Lodge is only open from June through September. Opening in August, may have compounded the lack of finances.


H. Stanley Green, General Manager. A postcard post marked 1913 with a printed message reads "Motor to Lake Geneva. A beautiful trip to Wisconsin's wonderful lake. Stop at the 'Hotel Geneva.' Opened August 1, 1912. Every accommodation for the automobile. Every room with bath. European plan. Located on the lake shore."
Postcards: courtesy of Charlotte Peterson
Thierbach and Nussbaum. In 1917, the Hotel Geneva was advertised as "New and Modern. 70 Rooms with Bath. Dancing, Swimming and Fishing. Fish or Chicken dinners. 9 Hole Golf Course. Open to the Public. A. H. Thierbach, E. T. Nussbaum Owners." The original owners were later joined by B.K. Thierback. According to Picturesque Lake Geneva, 1926, Nussbaum and Thierbach were listed as owners. There are some reports that place them as owners at least as late as 1935 and most likely until 1939.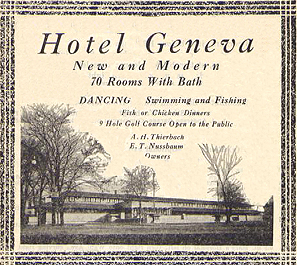 John K. Notz, Jr. writes that "in the 1920's, the Lake Geneva hotel was in its hey-day. It is said that, during the Prohibition that started in 1919 and lasted into the early 1930's, tunnels into the basements of nearby storefront buildings facilitated the movement of "booze" for consumption into the hotel and, when raids for Prohibition violations or gambling took place, the movement of customers out. While there are denials of that kind of activity in the local written histories such as the now defunct "Lake Geneva Magazine", such activities are more than plausible, as I have been told of biplane landings in the Winter on the frozen lake surface, for the purpose of picking up "booze" from the lake shore residences.

Sharyn Alden writes "Back in the 1920s, dapper Chicago gangsters, including "Scarface" Capone, George "Bugs" Moran, Jack "Machine Gun" McGurn and John Dillinger, drove north for their rest and relaxation, away from the pressures of Prohibition. One of the hideaway retreats was the Lake Como Hotel, now The French Country Inn. Locals tell stories about an underground speakeasy called the Sewer, and the secret tunnels that connected to the building for fast getaways."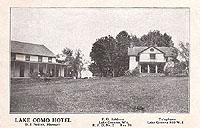 "Lake Como Hotel, D. J. Notter, Manager. P. O. Address, Lake Geneva, Wis., R. F. D. No. 2, Box 76. Telephone, Lake Geneva 900 W. I." Postmarked 1919.
Christ Hermansen & Sons. Christian, was a native-born Dane. During the World's Columbian Exhibition (Chicago World's Fair) in 1892-3 he worked as a carpenter. He most likely worked on the Danish exhibition. The Danish Building was a showcase for Danish craftsmanship. In 1921, he bought the Notter family property on Lake Como and opened the Lake Como Hotel. The Danish Building that had appeared at the Chicago World's Fair in 1893 was moved to its current site, the main guesthouse at the Lake Como Hotel.
Christian has three sons, Hobert, Inar and Harry. According to Al, Harry's son, around 1939 Christian and his son's purchased the Hotel Geneva. An ad appeared in the 1939 "Danish Brotherhood of America", and reads "Christ Hermansen & Sons invites you to Wisconsin's favorite playgrounds. Hotel Geneva, Lake Geneva and Lake Como Hotel."
The most well known of the three sons was Hobert Hermansen. Besides the two hotels, he was also known as the "Slot-machine magnate". His own home, adjacent to the Lake Como Hotel, featured a basement vault, a hidden underground garage, a counting room with 15-inch concrete walls and barred windows that were accessed through a secret passageway. He was also well known for hosting Chicago gangsters in this home including George "Bugs" Moran. He later married Moran's first wife, Lucille. Hobart married Lucille B. Bilezikdijan in 1932. Lucille B. Bilezikdijan was born on 26 Oct 1899 in Constantinople, Turkey.

Allen Hermansen indicated that this was his Grandfather, Christian Hermansen.

A Real Photo postcard postmarked 1953 reads "Pretty Garden at Hermansen's, Lake Como Hotel, Lake Geneva, Wis."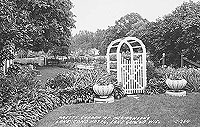 A Lake Como Hotel Real Photo postcard, late 1950s. "S1053. Sun Pier at Hermansen's Lake Como Hotel - Lake Geneva, Wis." Back: "Vacationers on long pier stretching out into Lake Como."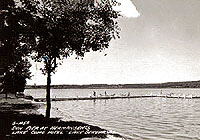 A postcard printed in 1955 and postmarked June 12, 1956 reads "Hermansen's Hotel Geneva. A fine Resort Hotel on the Lake - in town."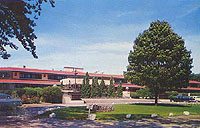 John K. Notz, Jr. writes, "A long-time operator-owner sold it, vacant, in 1962 but took it back in 1965. Selling it, again, in 1966." I assume that would be the Hermansens.
White River Corporation. According to Ted Schaefer in "No Room Available" Hermanson sold the hotel to the White River Corporation in 1962, foreclosed on the new owner in 1965, then sold it back to them again in 1966.
George Borg. The Milwaukee Journal, Sept 1, 1967 reported that a tavern named the Geneva Inn belonged to George Borg, but mentions nothing about the hotel. In 1971 he operated the Riviera Inn at Lake Geneva.
Milwaukee Journal - Sept 1, 1967. "Lake Geneva to Suspend Borg Bar License. The city council Friday night voted to suspend the class B liquor license for a tavern here belonging to George Borg, Delavan, for 10 days beginning after Labor Day weekend. Borg resigned recently as a state Senator. The Action followed complaints by Lake Geneva's mayor and police chief that minors were being allowed to loiter in the tavern, the Geneva Inn."
Milwaukee Journal - Aug 6, 1971. "Borg Injured in Motorcycle Crash. Former Republican State Sen. George Borg was reported in critical condition Friday at University Hospital here with injuries suffered Wednesday when his motorcycle crashed into a pole and struck a tree near Lake Geneva. Borg, 38, the millionaire grandson of the inventor of the automobile clutch, resigned from the senate in August, 1967, less than a year after being elected to his first term. He previously had served three terms in the Assembly. He now operates the Riviera Inn at Lake Geneva."
Hotel Geneva 1967. Photograph published in the Milwaukee Journal, Sunday Picture Journal, December 10, 1967, page 20. "Later owners have added such un-Wrightian touches as Polynesian decorations inside an a swimming pool at the entrance. Like Wright's Imperial Hotel in Tokyo, built a few years later, it may be doomed. The present owner, former State Sen. George Borg, is considering whether to tear it down or to remodel it. Wright students hope to save it." Note: Name has been changed to "Geneva Inn".
In the 1967 set of images by Richard Nickel, the restaurant had been operated as the Golden Orchid, Cantonese American Cuisine. But the hotel and restaurant were vacant by this time as evidenced by the photographs.
The Hermansen family ran the Lake Como Hotel until 1971, when it became the Red Chimney Inn.

Hobert Hermansen past away in 1984.

October 2008, Updated 2010.
Text by Douglas Steiner, Copyright 2008.