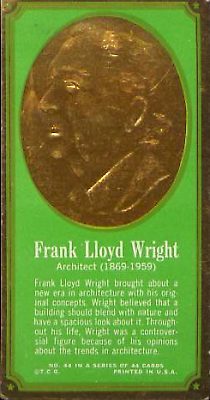 Date:
1965
Title: Frank Lloyd Wright Gumcard from 1965
Description: Topps U.S. Presidents & Famous Americans (R714-37 #44 in a series of 44 cards.) (Two Cards)
Size: 2.5 x 4.75 Card
S#: 1965.00.0499, 1965.00.0401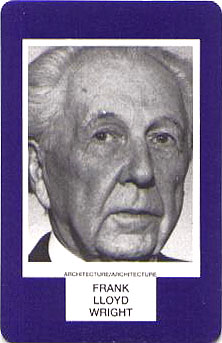 Date:
1990s
Title: Frank Lloyd Wright Playing Card - "Face to Face".
Description: Part of a Canadian Board Game Face to Face. Card #217. (Two Cards)
Size: 2.25 x 3.5
ST#: 1990.41.0405, 1990.42.0405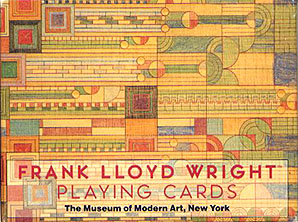 Date:
1994
Title: Frank Lloyd Wright Playing Cards. (Published by The Museum of Modern Art, New York)
Description: Museum of Modern Art Two deck set of Playing Cards. Detail from Saguaro Forms. Originally for the cover design for Liberty magazine. 1926. Color pencil on tracing paper,
Size:
ST#: 1994.38.0505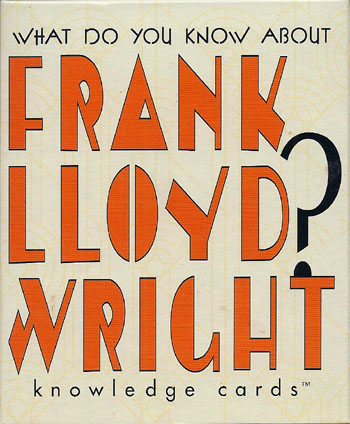 Date:
2005
Title: What Do You Know About Frank Lloyd Wright? Knowledge Cards. (Boxed Card Game) (Published by Pomegranate Communications, Inc., Petaluma, CA)
Description: Frank Lloyd Wright is the most celebrated architect in the United States. His unflinching individualism and far reaching philosophies – about nature, aesthetics, democracy, and the human spirit – loom as large on our cultural horizon as do his architectural wonders. Taliesin, the Guggenheim Museum, the Johnson Wax Building, the Robie House, and Unity Temple are just a few of his structures that have become popular tourist attractions and beloved national landmarks. Drawing on Wright's personal history, writings, and design oeuvre, this quiz deck will test your knowledge of this larger than life figure and his achievements. Its 48 cards explore Wright's connections to classic children's toys, his designs for sacred spaces, his acquaintance with Ayn Rand, and his now commonplace innovations to office buildings, among other topics. Whether you're well versed in Wrightian arcana or simply seeking to learn more, you'll enjoy this detailed look at America's master architect. (Publisher's description.) Original list price $9.95. Pp 48.
Size: 3.4 x 4
ST#: 2005.38.0314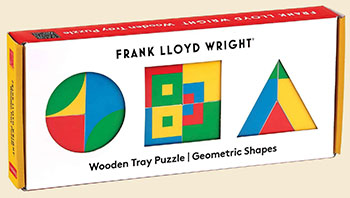 Date:

2019





Title

:

Frank Lloyd Wright Geometric Shapes Wooden Tray Puzzle, 2019.

Description: Manufacturer's description: "The geometric shapes in this puzzle set show the major forms Wright used in his decorative designs and modern architecture. These shapes can be found everywhere in Wright's work, from buildings to stain glass windows. Frank Lloyd Wright Geometric Shapes Wooden Tray Puzzle Set from Mudpuppy includes 3 colorful shaped puzzles embedded in a wood tray, allowing children to explore with shape and form." Designed and manufactured by Mudpuppy, New York. Original list price $24.99.



Size:

Box: 12.25 x 5.25 x 1.5, Puzzle: 11.75 x 5 x .75

ST#:

2019.48.1221