More has been written about Maximilian E. Hoffman than his Frank Lloyd Wright designed showroom. Born in Austria in 1904, it is safe to say that he was as visionary in the automobile industry as Wright was in Architecture. Alfa Romeo, BMW, Jaguar, Mercedes-Benz, Porsche and Volkswagen. Hoffman was instrumental in making these brands household names. Can you say "Grandfather of the imported sports car." In the late 1930s he moved to Paris, then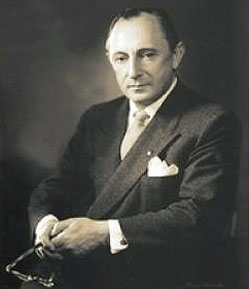 settled in New York soon after the start of World War II. He began a jewelry business that was successful enough to propel him into the auto industry. He formed the Hoffman Motor Car Company in 1947, and as legend has it, his showroom opened with a single French Delahaye four passenger coupe. An article in the June, 1947 Road & Track, announced the opening of his showroom. By 1949, the list of automobiles he imported read like a who's who of automobiles: Jaguar, Rolls-Royce, Bentley, Austin, Cooper, Rover, Lea Francis and Morgan. Volkswagen was struggling to find an interest in their Beetle until Max Hoffman took the risk, signing up to be the eastern US distributer and arranging for the first public showing in the United States.
In 1950 he met with Ferdinand Porsche at the Paris Motor Show and imported 15 Porsches. He also added the Jowett. In 1951 he purchased the Glockler-Porsche No. 2, racing it in Palm Beach Florida in December 1951. He gained notariety with headlines like "The most outstanding performance was put in by Max Hoffman, driving a Porsche." In 1952 he successfully participated in Florida and Bridgehampton races, sparking America's love affair with the Porsche. 1952 headlines read, "M.E. Hoffman Victorious in 1 Hr. Race Driving 'Glockler' Porsche!" According to Porsche and legend, Max Hoffman felt Porsche deserved an emblem for his imported cars. He met over lunch in New York with Ferry Porsche, who sketched it on a restaurant napkin. It first appeared on steering wheel hubs in 1953. By 1952, U.S. sales accounted for 21 percents of Porsche's sales.
He was the first to import the Mercedes-Benz in 1952, and was instrumental in creating the 300SL sports car. In 1953, Hoffman contacted Wright about designing a new showroom to display Jaguars. After a few delays, Hoffman finally opens his newly designed Frank Lloyd Wright showroom in 1955, three blocks to the Southwest at 443 Park Avenue. The July 1955 issue of Architectural Forum ran a two page spread on the new Showroom.
By 1959, according to the SEC, he formed "Hoffman Motors
was organized to succeed to the business of seven corporations which had been organized by Hoffman at varying times commencing in 1947." Besides New York City and Beverly Hills, California, he was involved with more than 475 sub-distributors and dealers located in over 370 cities and towns throughout the United States.
In the mid 1960s, he sold his other distributorships and focused his attention on BMW, again impacting the design of the BMW 2002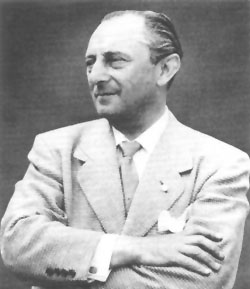 and dominating BMW sales.
In 1975 Max Hoffman sold his interest to BMW and retired.
Unquestionable was Max Hoffman's single-handed impact on the automobile industry. He was the driving force behind the success of many brands imported into the United States.
The Hoffman Display Room featured a revolving display turntable on which three to four cars could be displayed. The ramp rose from the back and wrapped around the left side leading to a cantilevered balcony. The ramp allowed for additional displays as well as viewing cars from the balcony. The Hoffman display room was a precursor to the Guggenheim Museum, a seamless, continuous spiral ramp. Wright's initial designs for the Guggenheim dated to 1943. The Hoffman display room opened in 1954. Five years later and thirty-two blocks Northeast, the Guggenheim Museum finally opened.
Centered in the display turntable was a circular planting box. Wright featured a large sculpture of the Jaguar hood ornament, but in 1953, when Hoffman began importing Mercedes-Benz, Jaguar opened their own showroom. Although designed as a Jaguar Showroom, it was never used as such.
There were other Wright designed elements. Planting boxes, built-in seating, furniture, imbedded lighting and a cantilevered balcony. Wright received two Mercedes from Max Hoffman as part of his commission for designing the Hoffman showroom.
In 1982 the display room was remodeled and a mirrored Mercedes three-pointed star was added to the ceiling over the turntable. Oversight of the renovations was supervised by Taliesen Architects Wes Peters, Cornelia Brierly, and Morton Delson.
In 2002 the display room was expanded and completely renovated.
In 2008, Mercedes-Benz announced that it would be investing over $30 million in a new and larger company-owned flagship dealership in Manhattan. The historic Frank Lloyd Wright sales showroom at 430 Park Avenue would remain unchanged in design and operations.
February 2010.