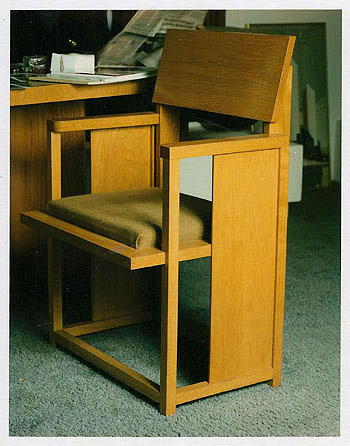 Date:
1981
Title: Dining Room Chair 1948, variant to a design for the Herman T. Mossberg Residence (1948 - S.302).
Description: Oak chair, three-quarter view, facing forward and to the right, the seat is upholstered, circa 1955. See House & Home - December, 1952, p. 66-73. Table and chairs are visible in this issue. Frank Lloyd Wright's first use of this design was in 1925 for Taliesin in Spring Green, Wisconsin, (Decorative Designs, Hanks, 1979 p. 142). In 1948 the design became a part of the Herman T. Mossberg Residence (1948 - S.302), (Furniture, Heinz, 1993, p. 60-61). They were also included in the Jacobs 1 Residence (possibly mid 1980s) (1936 - S.234) (Interior Style, Ehrlich, 2003, p. 47, 132-3). An image in "Historic Preservation", July-Sept, 1976, p. 10 does not show these chairs, nor does "Building with Frank Lloyd Wright", Jacobs, 1978. A slight variation was designed for the Palmer Residence (1950 - S.332) (Wright Style, Lind, 1992, p. 149-150). According to the notes supplied with these photographs from Kelmscott Galleries, "the oak dining table and six chairs were commissioned by an art professor in Kansas City circa 1955." Chairs: 32.5 (H) x 21.75 (W) x 18.5 (D). Acquired from Kelmscott Galleries.
Size: Two 4 x 5 color photograph.
ST#: 1981.93.0413